Commissioned Art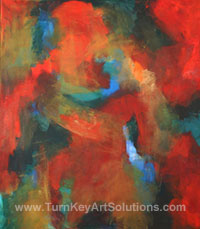 Original and Custom Designed Commissioned Art
The Perfect statement of Taste and Success
Original and custom, commissioned art pieces can be a significant part of a corporate art plan or special pieces for the home. In the corporate environment, art can make the perfect statement of the client's vision and culture. Additionally, it can speak to the success of the client company.
A few pieces of original art, mixed with a variety of prints, posters, canvas transfers, or giclee' prints, can provide a perfect solution for both budget and image. A free consultation can help develop this plan for you. Whether it be on site or our virtual art consultation, we can put together the perfect solution for you.
Our Original Art and Commissioned Art Services
While TurnKey Art Solutions can provide art from a variety of sources, we have a special partnership with the Landauer Mother and Daughter Art Team. Their work is displayed in homes and offices throughout the Houston area. This includes Baylor College of Medicine, Memorial Herman Hospital, and Chevron. Additionally, their art is often shown at local shows and events in the Greater Houston area.
Their unique style fits well with today's modern style of architecture and design. (View samples of art pieces in our Original Art Gallery.)
These exceptionally talented artists work with acrylics, pastels, ink and watercolors and truly enjoy the challenge of creating art to fulfill the expectations of their clients.
Contact us for a Free On-Site Art Consultation

Call today to schedule a personal appointment. We will arrange to meet with you either on site at your location, or at the studio/showroom located in the Galleria/Katy Freeway area.

For the ultimate in convenience you may also be interested in our Virtual Art Consulting Service.