Corporate Art Projects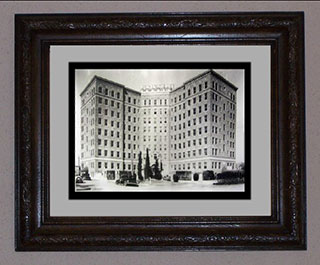 Plaza Hotel, Houston, Texas, ca. 1930s
Steve Besselman, Ltd. Edition

Pictured on this page: A few of the many
selections popular with our local clients.
We carry a complete line of
historic Houston art, photos,
and old Texas maps.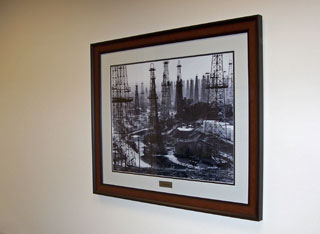 Field of Oil Wells
Have you just been given the responsibility to get a corporate art and custom framing project done for your company?
More importantly, do you need to find a way to complete your project in the shortest time with the fewest problems, while having it look great?
TurnKey Art Solutions is here to help. We can assist with virtually any art and framing project and make it simple and stress free with our complete, start-to-finish service. We offer everything needed for your entire project, from the art itself to services such as quality custom framing and professional installation.
Want to know more? Contact us today for a
It's easy – You call. We come to you and:
assess your needs and goals
help you make selections
assure your satisfaction
We're waiting for your call! 832-606-3303
Virtual Corporate Art Consulting
Location is no barrier. Our service area includes the entire continental United States. If you are located outside the greater Houston area, contact us to find out about our virtual corporate art consulting and production services.
Call Scott Edwards at 832-606-3303 or email scott@turnkeyartsolutions.com.

The Texas Rocket
ca. 1940

Main Street, Houston, Texas
ca. 1920s


Houston International Airport - 1956

(Renamed in 1967 after former
Texas governor William P. Hobby.
Dates back to 1927 and served as
the city's primary airport until 1969.)