Historic Houston
TurnKey Art Solutions offers art products that bring the buildings, landmarks, and events of Houston's yesteryears into your offices to decorate your walls. These unique ideas include:
, and locations around Texas
as far back as the mid 19th century
– A quality framed piece of art that ties an old Houston photograph to the present day at the same location. With the rapid growth in Houston, the comparison is incredible.
Consider any of these options to bring an intriguing look and touch of class to your offices.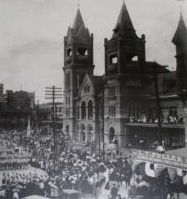 TurnKey Art Solutions is your source for
Old Texas Maps & Vintage Pics